Careers at Saffrony
Do you wish to be a part of 'Team Saffrony'?
At S.P.B. Patel Engineering College (Saffrony), we have set high standards for ourselves in terms of teaching, learning and delivering a WOW experience to all our stakeholders, primarily our students. We are looking for candidates who share the same passion for education. Do you think you have what it takes to create magic in class?
Are you looking for long-term, growth-oriented opportunities in academia?
Well, if the answer is yes, then you are looking at the right place. Working at Saffrony is not just another 7-8 hour job; it is about making a difference in the lives of students, parents and all other stakeholders alike.
We believe that learning should be a matter of joy and we welcome all the candidates who believe they have the right aptitude and attitude to be a responsible educator/ administrator.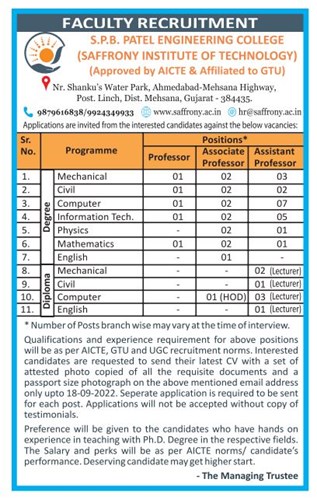 To apply for the various posts as a Faculty Member at Saffrony, Send your CV at [email protected].