Amit Patidar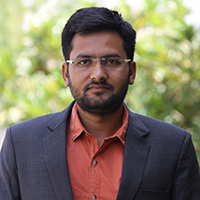 Amit Patidar
Assistant Professor
Brief Profile
Prof. Amit Patidar has been working in academia and industries since 2013. He has been actively involved in various co-curricular activities like organizing workshops and expert talks under ISTE for development of students and as well as faculty members. He has conducted various workshops of design softwares for all semester students to make them aware about some of the recent advancements in the area of CAD. 
He has worked as Design Engineer in Vehicle Integration Department at Volvo Eicher Commercial Vehicles Ltd., Pithampur. He was involved in packaging or the master vehicle layout considers all major systems and components in 3 dimensions the occupant position which has to conform to both ergonomic and legal requirement. He used to generate manufacturing drawings with GD&T & model check to ensure quality projects. He had been Junior Engineer at Chizel Prints Manufacturing Pvt. Ltd., Pune. Chizel is a 3D printing consultant in Pune focused on finding niche applications of 3D Printing. He did his internship for the final year dissertation work at Navkar Steels Industry, Ahmedabad. Navkar Steels works on metal forming operations.
His areas of interest are Manufacturing Processes, Computer Aided Design, Design of Machine Element, Kinematics of Machines, Industrial Engineering and Supply Chain Management.
Educational Qualifications
Master of Technology in Mechanical Engineering, Nirma University, Ahmedabad, India, 2014
        Thesis: Development of a Novel Tool for Sheet Metal Spinning Operation
Bachelor of Engineering in Mechanical Engineering, Chameli  Devi Group of Institutions, Indore, India, 2012
Awards / Achievements
Participated in 'Virtual BAJA SAE INDIA' organized by SAE INDIA on 19th Aug, 2011 at Dayananda Sagar Institutions, Bengaluru.
Publications
Development of a Novel Tool for Sheet Metal Spinning Operation, ELK Asia Pacific Journal, 2, April 15-16, 2015. (Co-author)
Technical Software Skills
CAD Package   : Creo Parametric 2.0
CAM Package   : NX-Cam, Master-Cam
Professional Work Experience
Assistant Professor – Mechanical Engineering Department, Saffrony Institute of Technology, S.P.B. Patel Engineering College, Linch, Mehsana, Gujarat, February 2017 – Present
Design Engineer – Vehicle Integration Department, Volvo Eicher Commercial Vehicles Ltd., Pithampur, Madhya Pradesh, Jan 2017 – Feb 2017
Junior Engineer – Chizel Prints Manufacturing Pvt. Ltd., Pune, Feb 2015 – Feb 2016
Assistant Professor – Mechanical Engineering Department, Om Engineering College, Junagadh,

Gujarat, 

June 2014 – Dec 2014
Intern – Design and Development Department, Navkar Steels Industry, Ahmedabad ,

Gujarat, 

May 2013 – April 2014
Workshops / STTPs / FDPs / Training Programs
Conducted a one day workshop on 'Creo Parametric 2.0 Design Tool – Sketcher', April, 2017
Seminars / Expert Talks
Organized an expert talk on 'Use of Radiation Technology for the Benefit of the Mankind' by Dr. Lalit Varshney, Head of Radiation Technology Development Division, BARC, India, April 2017