Bhavin Shah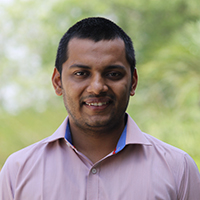 Bhavin Shah
Assistant Professor
Brief Profile
Prof. Bhavin Shah brings in a blend of industrial as well as academic experience. After completion of his Bachelors in Automobile Engineering he joined Sharma Hyundai and later Kataria Automobiles. In 2014 he entered the world of academics with Saffrony Institute of Technology.
Educational Qualifications
Master of Technology in Mechanical Engineering, Nirma University, Ahmedabad, India, 2014
        Thesis: Thermo-Hydraulic Design and Analysis of Heat Exchanger for Reciprocating Gas Compressor System
Bachelor of Engineering in Automobile Engineering, Indus Institute of Technology, Ahmedabad, India, 2011
Publications
'Design Optimization of Shell and Tube Heat Exchanger' , 6th International and 43rd National Conference on Fluid Mechanics and Fluid Power, MNNIT, Allahabad, UP, India, 14th -16th December, 2016. The paper is published in the proceedings of the conference.
Technical Software Skills
Heat Exchanger Design Software -HTRI
Professional Work Experience
Assistant Professor, Automobile Engineering Department, Saffrony Institute of Technology, Mehsana, 

Gujarat,

 since July, 2014.
Service Advisor, Sharma Hyundai Pvt. Ltd., Ahmedabad, March to July 2012
Customer Care Executive, Kataria Automobiles Pvt. Ltd., Ahmedabad, Gujarat June to Oct 2011
Workshops / STTPs / FDPs / Training Programs
Organized a two day Workshop on 'Overhauling of MPFI Engines', September 2016
Seminars / Expert Talks
Organized expert talk on 'Cold Chain Infrastructure' by Mr. Vishnu Barhate of Nutrisgroup, January 2017