Chitralekha Nahar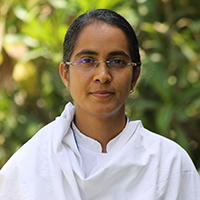 Chitralekha Nahar
Head of the Department
Brief Profile
Prof. Chitralekha Nahar worked in academia & various companies in India & United States. She has been actively involved with initiatives in various co-curricular activities like 'Design and development of an ATV for various National and International competitions' like SAEINDIA BAJA & Mega ATV Championship, Robocon which is the Robotics event and SAEINDIA Aerodesign Challenge which is designing & developing the Remote Aircraft. She had been ISTE coordinator of the institute where a lot of seminars & workshops were organized for development of faculty members.
She had been Assistant Manager, Project Leader & Structural Analyst with experience in Computer Aided Engineering (CAE), Finite Element Analysis (FEA) , Linear and Non-linear Stress Analysis , Crash / Impact analysis , Centrifugal Pump Casing Optimization using Non-linear Gray Cast Iron and Ductile Iron Materials, Automotive Truck Seat engineering , Drop test simulations , Thermal - structural analysis on solar dish concentrator, Fatigue life calculations – Low Cycle Fatigue (LCF) and High Cycle Fatigue (HCF) , Contact Analysis , Static Analysis and Dynamic Analysis by using Implicit and Explicit finite element. She also had manufacturing & production experience at Denso with fuel-pump, injector and electronic control unit used in the car.
Her areas of interest are Machine Design, Design of Machine Elements, Machine Design & Industrial Drafting, Mechanics of Solids, Advanced Strength of Materials, Mechanics of Deformable bodies, Finite Element Analysis, Stress Analysis, Constitutive Behavior of Materials and Design Thinking approach for Innovative ideas.
Educational Qualifications
Master of Science in Mechanical Engineering, Arizona State University, Tempe, Arizona, USA, 2005
Bachelor of Engineering in Mechanical Engineering, L.D. College of Engineering, Ahmedabad, India, 2000
Awards / Achievements
Dhronacharya Award, the first Prize of INR 20,000/- for being the best faculty advisor for the team, 'TeamEffort' of the institute for SAEINDIA Baja event on the February 19, 2017.
Innovative Trainer's Award under Indian Society for Training and Development (ISTD) chapter on the February 21, 2016.
Best Teacher's Award for Machine Design at conference of Higher Education Forum on the October 31, 2015.
Pedagogical Innovations Award at 4th GTU Sankul day on the February 14, 2015.
Two Pin Awards for the design solution of centrifugal pump designs in Structural Analyses at ITT Corporation.
GOLD MEDAL in Machine Design from Gujarat University in the year of 2000.
Professional Affiliations
Indian Society for Technical Education (ISTE)
Society of Automotive Engineers, (SAEINDIA)
Technical Software Skills
FEA Packages                                 : ANSYS Workbench, LS-Dyna, Hypermesh, Hyperview, Optistruct, MotionView
CFD package                                 : ANSYS CFX (Novice), Creo 2.0 Parametric (Novice)
Systems Modeling/Simulation   : MATLAB, Simulink , Real-Time Workshop , xPC Target. (Used extensively during Masters)
Math Tools                                     : Maple , MATLAB , Mathcad (Used extensively during Masters)
Professional Work Experience
Head of the Department 'Mechanical & Automobile Engineering Department, Saffrony Institute of Technology, S.P.B. Patel Engineering College, Linch, Mehsana, July 2013 to present
Assistant Manager – FEA, Xylem water solutions India Pvt. Ltd & ITT Corporation, Vadodara, India, June 2010 –July 2013  
Project Leader, Aktis Engineering Solutions Pvt. Ltd., Bangalore, India, Dec 2009 – June 2010
Design Engineer - Structural Analyst (FEA), ESG Engineering, Tempe, Arizona, USA, May 2006 – May 2009
Engineer – II, Denso Haryana Pvt. Ltd., Aug 2000 – July 2003
Workshops / STTPs / FDPs / Training Programs
Organized one week workshop cum training on Creo software by Mr. Pranav Mehta, an Alumni, August 2016
Completed LIVE online course successfully with certification on 'Integrating Projects and Design into Core Engineering Courses: Enhancing Learning and Preparing Professionals' by Dr. William Oakes from Purdue University, November 2015
Completed Creo Crash Course by Symmetric Solutions Pvt. Ltd., Gandhinagar, May 2015
Organized a 15 day Training program on 'Automotive Design and Development' by Elite Techno Groups, September 2015
Organized Automobile basics and beyond Workshop by Mr. Shaan Verma from Carmate, September 2014
Seminars / Expert Talks
Organized expert talk on 'Technologies involved in Cold Chain Infrastructures' by Mr. Vishnu Barhate of Nutrisgroup, January 2017
Organized expert talk on 'Product Design' by Mr. Vaishampayan, September 2016
Organized expert talk on 'Gear Box Design' by Prof. S.B.Soni, August 2016
Organized expert talk on 'Importance of Design & Analysis of Industries' by Prof. S.B.Soni, August 2014
Delivered seminar on 'Academic Ethics & Values', July 2014
Key Projects of Students
SAEINDIA Baja ATV Competition, Pithampur, Indore, February 2017 - Won the Dhronacharya Award
Mega ATV Championship (MAC), Bhubaneswar, Orrisa, March 2016 - Ranked 4th in India
SAEINDIA Baja All-Terrain Vehicle (ATV) Competition, Pithampur, Indore, February 2015 - Cleared the Virtuals in the first Attempt
All Terrain Wheel Chair, S.P.B.Patel Engineering College, Saffrony Institute of Technology, June 2016