Dashrath Prajapati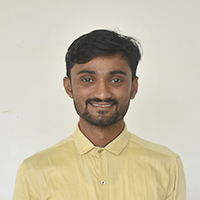 Dashrath Prajapati
Lecturer
Brief Profile
Mr. Dashrath Prajapati joined academics in the year 2018. His specialization is in CAD/CAM and areas of interest are Thermodynamics, Design and Drawing, Automobile engine and transmission system. He is actively involved in various co-curricular activities at the institute.
Educational Qualifications
Master of Engineering in Mechanical (CAD/CAM), Swaminarayan College of Engineering & Technology, Kalol (Gandhinagar), Gujarat, 2018
       Thesis: 'Effect of side rake angle on surface roughness of EN-31 during CNC turning'.
Bachelor of Engineering in Mechanical Engineering, Universal College of Engineering & Technology, Moti Bhoyan (Gandhinagar), Gujarat, 2015
Diploma in Mechanical Engineering, K.D. Polytechnic, Patan, Gujarat, 2012
Technical Software Skills
Professional Work Experience
Adhoc Lecturer, Automobile Engineering Department, S. P. B. Patel engineering College, Saffrony Institute of Technology, Mehsana, March 2020 - Present
Lecturer, Automobile Engineering Department, M. L. Institute of Diploma Studies, Bhandu, Gujarat, August 2018 to September 2019
Supervisor Instructor in Government ITI , Rajpur (Patan), September 2017 to June 2018
Key Projects of Students
Types of Hybrid Electrical Vehicles