Divyang Patel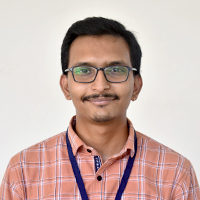 Divyang Patel
Assistant Professor
Brief Profile
Mr. Divyang Patel is one of the youngest faculties in department, joined the institute in June, 2021. He holds an M.Tech with a specialization in Thermal System Design. His areas of interest are Thermodynamics, Heat transfer, Refrigeration & Air-Conditioning, Power Plant Engineering, Renewable Energy, Strength of Material, Machine Design & Production, Fluid Mechanics and Operation Research. He worked as a content developer in Doubtnut Educational Company for short period of time too before coming to academics.
Educational Qualifications
Master of Technology in Thermal System Design, from Sardar Vallabhbhai National Institute of Technology, Surat in 2021.
Thesis: "Experimental and CFD analysis on Vortex tube refrigeration system."
Bachelor of Engineering in Mechanical Engineering, from Shree Swami Atmanand Saraswati Institute of Technology, Surat in 2018.
Project: "Utilization and Reduction of waste part of Polyurethane at Adani Port Pvt. Ltd. (Hazira, surat)"
Awards / Achievements
Cleared GATE exam with 720 score in GATE - 2021.
Secured 2nd Rank in the First Year of Post-Graduation in the SVNIT College.
Secured 1st Rank in College and 12th Rank in the State during Graduation.
Secured 1st Rank in GTU in semester 7.
Technical Software Skills
C Language
GAMBIT
ANSYS (Fluent)
Workbench
Solid work.
Professional Work Experience
Adhoc Assistant Professor - Mechanical Engineering Department, S. P. B. Patel Engineering College, Saffrony Engineering College, Mehsana, Gujarat, June 2021 to present.
Worked as Content writer in Doubtnut Education Ltd. For 2 months in the year 2021.
Workshops / STTPs / FDPs / Training Programs
Participated in Solid Work workshop organized by SOPAN Institute of Engineering and Design in March-2018.