Govind Patel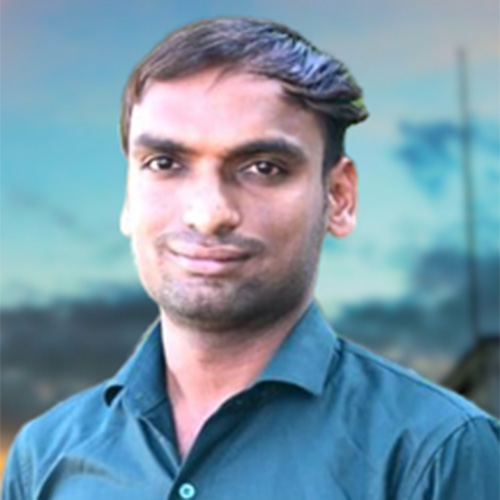 Govind Patel
Adhoc lecturer
Brief Profile
        I'm Govind patel, i belong to palanpur gujarat. I graduated with a degree in mechanical engineering from gtu university. After that I was working with iffco kandla in the mechanical department for maintenance and then when I had completed training then working with shaheb poly plast palanpur- post of cnc machine operator. Still now, I work with saffrony institute of technology.  Performance driven and versatile engineering professional with 3 years experience creating innovative operations..
Educational Qualifications
2016 – 2019 Bachelor of Mechanical Engineering
GTU University Ahmedabad 8.02 CGPA
2013 – 2016 Diploma Mechanical engineering 
GTU University Ahmedabad 8.1 CGPA
CNC Programming Turner Course -3 months
Awards / Achievements
government exams preliminary cracks iffco gpsc rto and gsecl .
Technical Software Skills
MS office, operating , Project organization ,Communications, Team Management, machine setup, Doc work
Professional Work Experience
February 2023 presents Saffrony institute of technology mehsana.
- I have been working as adhoc lecturer in the mechanical department.
- I handle many subjects: TOM,FM,DME,SOM, THERMAL,MSM,ME, REFRIGERATION,IC ENGINE,  ADVANCE MECHANICS, PHYSICS,MACHINE DESIGN. The computer works.
                                         - I had a lot of readings for government exams preliminary cracks iffco gpsc rto and gsecl .
- I like good teaching and explaining topic experiences…..
April 2022 -2023 FD Mubin campus institute of engineering and technology bahiyal.
 - I had worked as a lecturer from fd mubin campus in the mechanical department.
May 2020 - 2022 Machine Operator shaheb polyplast pvt ltd chandisar, palanpur INDIA.
                                                              - Ensured dimensions of finished work pieces are in conformance to specifications.
                                                             - Removed and replaced dull cutting tools.
          - Handle machine malfunctions by adjusting machine controls.
          - Set controls and regulated speed, feed, coolant flow and angle of cut. Compared  numerical  displays with process sheet data to verify dimensional adjustments.
                                                   - Manipulated dials, switches override program and correct machine performance
         - Ensured specifications compliance of first run piece and spot check succeeding pieces.
       -    Verified machine settings and programmed control data for accuracy.
Feb 2019 – 2020    Apprentice Technical Trainee at Indian Farmer Fertiliser Co Operative ltd, KANDLA . 
 
 Apart from Planning, Execution and monitoring all Maintenance activities on training time.                                                                       - Preventive, Predictive and breakdown maintenance.  Plant Turnaround planning.Failure Analysis and Troubleshooting. Working experience and maintenance of Gas Turbines, SteamTurbines.  Maintenance of Rotary, Static and Material Handling equipment and its commissioning. - Maintenance of multistage centrifugal compressors, High pressure Pumps in Ammonia and  Urea service. Condition monitoring of Equipment. Spare parts management, Working knowledge of Codes, Standards viz. ASME, API