Jaimin Jani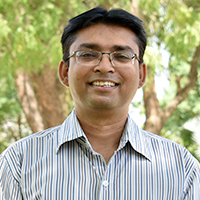 Jaimin Jani
Assistant Professor
Brief Profile
Mr. Jaimin Jani is having more than 9 years of experience in academia as well as worked in various companies in India and Canada. He has been engaged in various Post-Graduate level (Master of Computer Applications and Master of Business Administration (IT))  courses like Artificial Intelligence, Fundamentals of Networking, Advanced Networking, Computer Architecture & Organization, Enterprise Resource Planning, Structural and Object-Oriented Design Analysis and Design, Technical Writing and Communication Skills, Microprocessors, System Analysis and Design, IT Infrastructure Management, Business Process Reengineering, DBMS, Information System Control and Management. Moreover, he has coordinated sessions on OOAD, cutting-edge technologies at institute level, has been the Paper-setter in GTU Examination and a team member of the LIC committee visit in GTU affiliated colleges.
Educational Qualifications
Ph.D. (Pursuing)
M.C.A (Master of Computer Application) from SMU with First Class in the year 2016.
Diploma in Marketing Management with First Class from Princeton College, Canada in the year 2005.
Bachelor of Computer Engineering with First Class from Birla Vishvakarma Mahavidyalaya Engineering College affiliated with S.P. University, Vallabh Vidyanagar in the year 2000.
Diploma of Computer Engineering with Distinction from the Technical Educational Board in the year 1997.
Achieved good score in TOEFL, IELTS & GRE
Awards / Achievements
Achieved State-level rank in Technical Education Board.

Successfully completed the establishment of IIT-Bombay Remote Learning Centre (Remote Centre ID : 1498) for the institute.
Technical Software Skills
Python, C, C++, Java
Professional Work Experience
Worked as GIS mapping associate in Suncor, Fort McMurray, Canada.
Workshops / STTPs / FDPs / Training Programs
FDP at GTU on "Artificial Intelligence" on 2nd July, 2017
Attended workshop on "Artificial Intelligence & Machine Learning" at GTU from 16th to 18th March, 2018.
Seminars / Expert Talks
Attended a one-day seminar on "Re-thinking Women's Role" at CPI on 10th February, 2018.
Coordinated placement & cutting edge technology seminars for students at various intervals
Key Projects of Students
Guided & mentored students for their final year CPR project on
"A study on Integration of Artificial Intelligence (AI) in Digital Marketing"
"A study on Impact of Artificial Intelligence (AI) on Indian Financial Services Sector".