Joseph Sebastian Sibi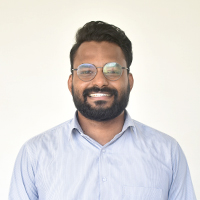 Joseph Sebastian Sibi
Assistant Professor
Brief Profile
Mr. Joseph Sebastian Sibi is one of the youngest faculties in department. He holds a Master's degree in Water Resources Engineering. His area of specialization is GIS and Sediment Transport while his areas of interest include Sediment Transport in Rivers, Flood Modelling, Steady Flow Analysis, Unsteady Flow Analysis, Open Channel Flows, Fluid Mechanics, Hydrology, Irrigation Engineering, and Computational Techniques in Water Resources Engineering.
Educational Qualifications
Master of Technology in Water Resources Engineering, National Institute of Technology, Surat (SVNIT), 2020.
Thesis: 'Computation of Sediment Transport in Godavari River using various theories and Hec-RAS.
Bachelor of Engineering in Civil Engineeirng, Vishwakarma Government Engineering College, Chandkheda, 2017.
Technical Software Skills
Civil Engineering Tools:           :Hec – RAS
GIS Tools                                   :ArcGIS, Q-GIS
Math Tools                               : Lingo, OriginPro
Professional Work Experience
Adhoc Assistant Professor – Civil Engineering Department, Saffrony Institute of Technology, S.P.B. Patel Engineering College, Linch, Mehsana, June 2021 – Present.
Workshops / STTPs / FDPs / Training Programs
Presented a paper titled "Variation of Sediment Transport in Godavari Basin" in the HYDRO-2020, International Conference on Hydraulics, Water Resources and Coastal Engineering, organized by NIT Rourkela, 26th-28th March, 2021.