Kamlesh Samadhiya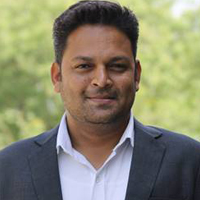 Kamlesh Samadhiya
Section Head
Brief Profile
Prof. Kamlesh Samadhiya has been in academia and oil field industry. He has been actively involved in co-curricular activities like design and fabrication of All Terrain Vehicle (ATV) for various national and international events like SAE India Baja and Mega ATV Championship. He is also working as an institute  coordinator for one year plan of departments.
He had been the Maintenance In charge and Area In charge at M/s. Vishal Enterprise (Drilling & Work Over O&M Services with ONGC, Mehsana), Mehsana, 2005 to 2012. He has the experience of handling eight work over rigs, maintenance and operations, staffing, supervision and interacting with ONGC officers. He has also worked at GNFC Bharuch as Shutdown Engineer for a month.
His areas of interest are Automobile Engineering, Automobile Systems, Vehicle Maintenance & Garage Practice, Industrial Engineering, Power Plant Engineering, Refrigeration & Air Conditioning.
Educational Qualifications
Master of Engineering in Mechanical Engineering, Faculty of Technology & Engineering, Maharaja Sayajirao Unviersity of Baroda, Gujarat, 2011
        Thesis: Energy Conservation & Energy Audit Of Diesel Power Plant Of Work Over Rig
Bachelor of Engineering in Mechanical Engineering, Shri U.V.Patel College of Engineering, Ganpat Vidhyanagar, Kherva,  India, 2005
Professional Affiliations
Indian Society for Technical Education (ISTE)
Society of Automotive Engineers, (SAEINDIA)
Professional Work Experience
Professor in Mechanical Engineering and Section Head of Automobile Engineering Department, July 2012 to present
Shutdown Engineer at GNFC Bharuch for a month June 2012
Area In charge at M/s. Vishal Enterprise from June 2011 to May 2012
Maintenance In charge at M/s. Vishal Enterprise from May 2007 to June 2010
Workshops / STTPs / FDPs / Training Programs
Organized 15 days Training program on 'Automotive Design and Development' by Elite Techno Groups, September 2015
Organized 3 days workshop on 'Automotive Basics & Beyond' by Mr. Shaan Verma of Carmate, Ahmedabad, September, 2014
Organized a one day workshop on 'Demonstration of working of components of automobile engine' on 18th February, 2014
Organized a two day workshop on 'Emerging Technologies in the Field of I.C. Engines and Automobiles' on 26th to 27th August 2014
Organized a two day workshop on 'Technologies of Two and Three Wheelers' on 6th and 7th October 2015.
Organized a two day workshop on 'Overhauling of MPFI Engines' on 14th and 15th September 2016.
Organized a fifteen days training program on "Automotive Design and Development" by Elite Techno Groups, September, 2015
Organized a three day workshop on 'Automobile Basics and Beyond' by Mr. Shaan Verma from Carmate, September, 2014
Attended Faculty Development Program, Series of Sessions by Mr. Kamal Dabawala, from March to June 2014
Attended Faculty Development Program by Mr. Deepak Teraiya, August 2013
Attended Computer Aided Design-AUTOCAD 2K at Industrial Training Institute, Gandhinagar (Gujarat) India from 1st February to 31st July 2002.
Attended Mines Vocational Training-MVT in O.N.G.C. Mehsana Gujarat India from 21st to 26th January 2008
Attended Hydrofracture Pumps, Blender Unit and Data Van Commissioning Training with engineers of Stewart & Stevenson LLC. U.S.A., at Focus Energy Ltd. Jaisalmer, Rajasthan from 11th to 26th June 2010.
Attended Industrial Training at Starline Cars Pvt. Ltd. Authorized Dealer of Maruti Suzuki Car, Mehsana from 9th to 13th June 2014
Attended Induction Training at S.P.B. Patel Engineering College, Saffrony Institute of Technology, Linch, from 1st to 4th July 2014
Attended Training of Trainers on Entrepreneurship Development at IIT Gandhinagar, from 1st to 5th September 2014
Attended an STTP on 'Advance Applications of CAD software' at S.P.B.Patel Engineering College, Saffrony Institute of Technology from 23rd to 27th June 2014
Attended an STTP on 'Advance in Internal Combustion Engines' at LDRP-ITR, Gandhinagar from 7th to 11th September 2015
Attended an FDP on 'Improving Teaching Skills' by Prof. H.G. Rajput on 27th July 2013 at Saffrony Institute of Technology.
Attended Expert lecture on 'Advances in Pump Technologies' by Mr. Anand Savaliya, G.M., Silver Engineering Co. Rajkot on 7th August 2013 at Saffrony Institute of Technology.
Attended a one day workshop on 'Energy Conservation Awareness' by ARS Energy Auditors in association with GEDA on 11th February 2014 at Saffrony Institute of Technology.
Attended Expert lecture on 'Cryogenics and its Applications' by Dr. Hemant Naik SVNIT, Surat on 28th March 2014 at Saffrony Institute of Technology.
Attended a one day international workshop on 'SAE Baja ATV' by team of Tenessee Tech University, U.S.A. at College of Engineering, Pune on 10th August 2014.
Attended International Conference on 'Design for a Billion' at IIT Gandhinagar from 7th to 9th November 2014.
Attended a GUJCOST sponsored one day national seminar on 'Emerging Trends in Concentrated Solar Technologies' at GPERI, Mewad on 4th July 2015
Visited Vibrant Summit held at Gandhinagar on 13th January 2017
Attended an FDP 'Talent Nucleus - I' by Mr. Vanraj Zala, Mr. Anand Pandya and Mr. Kamal Dabawala at Business Park Centre, APTL, Adalaj, Ahmedabad on 4th March 2017
Attended an FDP 'Talent Nucleus – II' by Mr. Anand Pandya and Mr. Kamal Dabawala at Aranya Park, Gandhinagar, May 2017
Seminars / Expert Talks
Organized expert talk on 'Automobile system design' by Prof. Vimal Patel, L.D.College of Engineering, Ahmedabad, September 2015
Organized expert talk on 'Industrial Safety' by Mr. Manish Shah, Manager EHS, Ammann Apollo Industries India Ltd, Mehsana on March 2015
Organized expert talk on 'Internal Combustion Engines' by Prof. A.R.Patel, HOD Mechanical Engg. Dept., LDRP-ITR, Gandhinagar
Key Projects of Students
Towing mechanism for two wheelers
4X4 steering mechanism
Railway platform connector bridge mechanism