Kunalsinh Kathia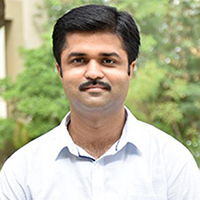 Kunalsinh Kathia
Assistant Professor
Brief Profile
Mr. Kunalsinh Kathia is in the teaching field for last 6 years since 2012. He has received an "Excellence Award" for developing an Android app for GTU students in 2014. His basic interest and expertise are in Design and Development of products. He has guided masters' students for completion of their research work and many bachelor students for project work. His area of expertise are Automobile, Mechanical, Production, CAD/CAM& Machine design. Mr. Kathia has been working with NPTEL offline chapter team during academia teaching. In addition, He has been working with SAE India and GTU Sponsored F1 club to guide students for designing racing car. His teaching methodology is based on latest technology and trends because he believes that his students should be one step ahead of the current engineering scenario. Delivered fruitful lectures as an expert in various colleges on the topics like advances, automation in engineering, on awareness of latest trends in mechanical & Automobile engineering. Organized STTP for GTU students. His prime motto is to ignite young minds with knowledge of moral values.
Educational Qualifications
Masters in Engineering with Machine Design specialization, Gujarat Technological university, Veerayatan Institute of technology, Mandvi (India), 2014
Thesis: 'Influence of tool pin's depth of penetration over joint parameters in friction stir welding for AA8011'
Bachelor of Technology in Mechanical Engineering, M.L.V Engineering college, Bhilwara, Rajasthan, India, 2011
Diploma in Mechanical Engineering , Tolani polytechnic, Technical education Board, Adipur, Gujarat (India), 2008
Awards / Achievements
"Excellence Award" for developing Android application for GTU students
Secured second rank in GTU during Masters in Machine design
Publications
Kathia Kunalsinh R., "Influence of Tool pin depth of penetration in Alluminium  Alloys over joint parameters in Friction stir welding," Int. J. Eng. Res. Dev., vol.  1, no. 3, pp. 206–209, 2013.
Kathia Kunalsinh R., "Influence of tool pin's length over joint strength in AA8011" Int J. of Futuristic Trends in multidisciplinary Research, vol I, no.2, 2014.
Kunalsinh R. Kathia, "Dominant causes of cooling in Automobile vehicle for thermal comfort" Int J. of Eng. Res. Dev., vol IV, no.IV, 2016.
Kunalsinh Kathia, "Modification of car seat in terms of ergonomics by means of thermal comfort" Int J. of Eng. Res. Dev., vol V, no.2, 2017.
Professional Affiliations
Lifetime member of Indian Society of Technical Education (ISTE)
Member of Ansys society of engineers.
Member of Microsoft development team (Windows 8.1)
Technical Software Skills
Microsoft Office (Microsoft)
Microsoft Project (Microsoft)
AutoCAD 2017 (Autodesk)
Solidworks 2018 (DS3)
Ansys 17.1 (Static , Thermal, FEA, Workbench)
Creo 5.0 (PTC)
CATIA (DS3)
LibreCad  (Libre)
Workshops / STTPs / FDPs / Training Programs
Attended one day Workshop on E-Foundry technology organized by IIT Bombay in B.H Gardi Engineering college, Rajkot , 2015
Attended One-week FDP on "Art of Teaching" at HJD Institute, Kera, 2016
Attended One-week STTP on "Advances in Design of Press tools and Die" by IGTR Ahmedabad & VVP Engineering college, Rajkot, 2016
Attended Webinar of ANSYS India on "Heat-Exchangers", 2017
Attended One-week STTP on "Design of Heat Exchangers" at Darshan Institute of Technology, Rajkot, 2017
Organized One Day workshop on" Advancements in Thermal engineering" for Govt. Polytechnic bhuj Students in Jan 2018
Organized One day workshop for B.E students in "Advances in Manufacturing technologies" on Jan 2018
Seminars / Expert Talks
Delivered Expert talk on "Advances in Automobile systems" to final year degree students of LDEC, Mobi, January 2016
Delivered Expert session on "Automobile Advancements and latest achievements" to students of Tolani Polytechnic, Adipur (Kutch), February, 2016
Delivered Expert session on "Advances in computer aided design software's" to students of G.P Bhuj , Jan 2018
Key Projects of Students
Masters Dissertation on "Analysis and optimization on wheel rim of Hero Honda splendor for weight and cost reduction using FEA", at HJD Institute, 2015
Masters Dissertation on "Design and optimization of blades for windmills in terms of cost and weight" at HJD Institute, 2016
Masters Dissertation on "Modification of Car seat in terms of ergonomics" at HJD Institute, 2017
Masters Dissertation on "Effects of solidification time over different parameters in centrifugal casting of AL8084 pipes" at HJD Institute, 2017
Degree Final Year project on "Analysis and optimization of bearing failure in rotary keolin plant for better lifespan of bearings", at HJD Institute, 2014
Degree Final Year project on "Design and implementation of Automatic side stand in two-wheelers for safety purpose" HJD Institute, 2015
Degree Final Year project on "To improve O-Pipe quality by finding and resolving welding defects during mfg." HJD Institute, 2016
Degree Final Year project on "Optimization of forklift used in conveyor mechanism for maximum work output", at HJD Institute, 2017
Degree Final Year project on "Design of chair less chair for disables and workers" final year degree students at HJD Institute, 2018 (Nominated as best design project in GTU by Institute)
Diploma Final Year project on "Retrofitting of conventional lathe machine by implementing cooling system of tool" at HJD Institute, 2018