Kushal Bhardwaj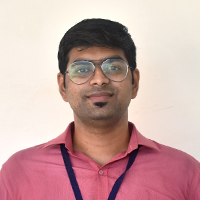 Kushal Bhardwaj
Assistant Professor
Brief Profile
Mr. Kushal Bhardwaj is one of the youngest faculties in Mechanical Engineering Department. He holds M.Tech in Mechanical Engineering. His area of specialization is General Mechanical which covers all the aspects of Mechanical Engineering like Design, Thermal, Manufacturing, Industrial, etc. at advanced level while his areas of interest are Machine Design, Solid Mechanics, Dynamics of Machinery, Finite Element Method, Rapid Prototyping, Measurement, Instrumentation and Control. Before coming to academics, he worked as a senior engineer in Flowserve Sanmar Limited for 2 years and managed Technical Sales & Marketing of Flowserve who makes Mechanical Seals over South Gujarat Region with major customers like ONGC, HPCL, L&T, etc.
Educational Qualifications
Master of Technology in Mechanical Engineering, Sardar Vallabhbhai National Institute of Technology, Surat. (2019-2021)
Thesis: "Pressure Vessel Designing and Analysis using CREO, Ansys and MATLAB based on ASME code SEC VIII division 1".
Bachelor of Engineering in Mechanical Engineering, Dr S. & S.S. Ghandhy College of Engineering & Technology, Surat. (2011-2015)
       Project: "Design of Central A.C. Plant for Mechanical Department, GEC Surat"
Awards / Achievements
Secured 1st Rank in first year of my Post Graduation.
Cleared GATE exam 7 times from 2015 to 2021 with 98.38 percentile in 2019.
Secured 2nd Rank in college and 23rd rank in state during Graduation.
Secured 1st Rank in St. Xavier's High School, Surat during HSC Examinations in the year of 2011
Secured 1st rank in NCC 'C' certificate examination in No.1 Gujarat compo, Baroda. (2013)
Professional Affiliations
Associate Member of "Indian Institute of Welding – India"
Technical Software Skills
ANSYS Workbench
ANSYS APDL
MATLAB
CREO
SOLIDWORKS
AUTOCAD
SAP
Professional Work Experience
Adhoc Assistant Professor in Mechanical Engineering, S. P. B. Patel Engineering College, Saffrony Institute of Technology, June 2021 – Present
Senior Engineer – Flowserve Sanmar Limited, July 2015 – Oct 2017
Workshops / STTPs / FDPs / Training Programs
Attended a One Week FDP on "Reality Based Welding Simulator: Significance, Hands on Training and Industrial Correlation" - Dec 2019.