Malay Bhatt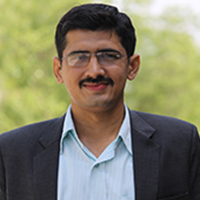 Malay Bhatt
Assistant Professor
Brief Profile
Prof. Malay Bhatt has five years of work experience in various Industries in India and US and has in academics since 2014. As an academician he has contributed by undertaking activities like organizing workshops, expert lectures, industrial visits, placement and various extra and co curricular activities for development of department since inception of branch in institute.  He has intensive experience in development of Electrical Machine Lab, High Voltage Lab, Switchgear and Protection Lab in department.
He has intensive work experience in leading IT Company on Aero Navigation Project and had visited London, United Kingdom for testing and training during the project. He has worked in leading transformer manufacturing company in winding department and in electrical maintenance department in leading Pipe manufacturing company. He has got training and work experience on SQL Server with IT consultant in US.
His areas of interest are Electrical Machines, Machine Design, Electrical Power System, Solar and other non conventional sources, Energy Audit, Industrial Automation, PLC and SCADA, Designing and Drafting, Domestic Wiring and Lightning Design, Design Engineering and Innovation.
Educational Qualifications
Masters Electrical Engineering, Lamar University, Texas, USA, 2008
Bachelor of Engineering in Electrical Engineering, Charotar Institute of Technology (Gujarat University), Changa, Gujarat, India, 2006
Awards / Achievements
Awarded scholarship for all semesters in Masters at Lamar University, Texas.
Professional Affiliations
Indian Society of Technical Education (ISTE)
Technical Software Skills
AutoCAD, Micro station, SciLab, Orcade, MATLAB, C Language
PLC and SCADA soft ware of Allen Bradley, Delta, Mitsubishi, Siemens, Schneider
Professional Work Experience
Section Head of Electrical Department since 12 Feb, 2016 and Assistant Professor in Saffrony Institute of Technology since 1st Jan 2014.
Hi Tech Outsourcing Services, Ahmadabad, India March 2010 – Dec 2013
Annex Professionals LCC. Dallas, Texas, USA, Jan 2009 – March 2009
Transformers and Rectifiers India Ltd. Feb 2007- Aug 2007
Ratnamani Metals and Tubes Ltd., Kutch, Gujarat July 2006 – Feb 2007
Workshops / STTPs / FDPs / Training Programs
Organized State level Project Competition in VEYG 2017 at Saffrony Institute of Technology in Feb 2017.
Organized a one day seminar on BUSINESS & STUDY PROSPECTS IN SOLAR TECHNOLOGY in Feb 2017.
Organized a one day seminar on Domestic Wiring Design and Estimation on March 2017.
Organized a two day workshop on "Raspberry Pi" in Feb 2016.
Organized a one day seminar on resent trends in High Voltage engineering in Feb 2016.
Organized a one day seminar on Basics of Power Electronics in 2016.
Organized a one day seminar on Substation in March 2016.
Attended a workshop on Design Engineering for Innovation at GTU during 2014-2015
Had Practical Training on Industrial Automation from Neo Creative Vision Technologies Private Ltd, Ahmadabad
Had practical training on Control Panel designing and manufacturing from Control system engineers, Changodar, Ahmadabad.
Key Projects of Students
Protection of Transformer Using Microcontroller, S.P.B. Patel Engineering College
Solar and Wind hybrid system With Sun Tracker Using Micro Controller
Solar MOSFET Based Inverter With Tracking, S.P.B. Patel Engineering College
Ongoing project on RC Controlled aircraft for SAEINDIA Aero design competition.