Manan D. Thakkar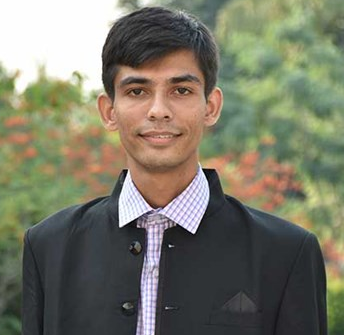 Manan D. Thakkar
Assistant Professor
Brief Profile
Prof. Manan  Thakkar is the recipient of numerous medals during his academics. His areas of interest are Android Mobile application development, Java based web application development, Big Data Analysis, Amazon Web Service. Prof. Thakkar took up Java Professional Training as a part of his final year project while pursuing his bachelor's in engineering. After completion of M.Tech, he worked as an Assistant Professor at Silver Oak College of Engineering and Technology, Ahmedabad from August 2016 to April 2017. Prof. Thakkar has also taken online training for two months on Amazon Web Service at LIN4ME Company, U.K. He works as a tutor at departmental Gate coaching.
Educational Qualifications
Master of Technology in Computer Engineering, Ganpat University, Mehsana, 2016
          Thesis: Design and Implementation of Transport Layer Protocol for High-Speed Networks
Bachelor of Engineering in Computer Science and Engineering, Government Engineering College, Patan, 2014
Awards / Achievements
Rewarded with two Gold Medals during M.Tech.
A Gold Medal for securing First Rank in Computer branch of Ganpat University.
A Gold Medal for overall Scholastic Performance among all branches of Ganpat University.
Cleared Gate Exam.
Technical Software Skills
Network Simulator - NS2, C, C++, JAVA, Android, Amazon Web Service (AWS), Microsoft Dynamic AX ERP, X++ language, Hadoop, Hive, MongoDB, MySQL
Professional Work Experience
Assistant Professor – Computer Engineering Department, Saffrony Institute of Technology, S.P.B. Engineering College, Linch, Mehsana, Gujarat. From: July 2017 – To: Present
Assistant Professor – Computer Engineering Department, Silver OAK College of Engineering and Technology, Ahmedabad, Gujarat, From: August 2016 – April 2017
Workshops / STTPs / FDPs / Training Programs
Attended FDP conducted by Prof. M.T. Savaliya on 'Student-Centric approach to teach Logic Building and Programming Fundamentals'
Attended Event organized by GTU on 'Transform Education through Cloud', to discuss the trends shaping digitization of education, Cloud best practices and cutting-edge innovations in education. Speaker: Vincent Quah, AWS APAC
Seminars / Expert Talks
Participated in SAMVAAD - The 2nd State Level Multidisciplinary Symposium organized at Silver Oak Group of Institutes.
Key Projects of Students
Android Application to handle transportation problems by adding modules like find bus route, find nearby bus station or cycle station, find available RMTS bus to travel in Rajkot city, by participating as a Mentor in Smart Rajkot Hackathon, Rajkot, July 2017.