Manishkumar Patel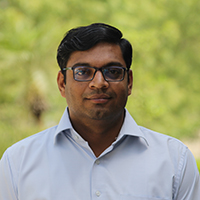 Manishkumar Patel
Assistant Professor
Brief Profile
Prof. Manish Patel has worked in academia as well as in various companies. At Saffrony Institute of Technology, he is actively involved in various co-curricular activities like ROBOCON- which is National & International robotics competition and SAEINDIA Aerodesign Challenge- which is National remote Aircraft Designing & Developing Competition.  He is engaged in Laboratory Development starting form material procurements to erection activities of Electrical Machine Lab, High Voltage Lab and Switchgear and Protection Lab. He is involved with the LED club for New Design and Development of low cost and Efficient LED bulb design.
He had been Senior Engineer with experience of preparing job billing Schedule, Billing Breakup, Procurement of items and coordination between design team and vendor for resolving technical queries and also involved in negotiation of some items at L&T. He worked as a Site in-charge with experience of Site Execution work at APU, ONGC-Uran Project, Execution related to Earthing, Lighting and Panel Erection work and also engaged in system handing over formats to resolve the punch points raised by client.
His areas of interest are Control System, Artificial Intelligence, Robotics & Control, Network Analysis, Computer based Machine Design, Power System Simulation, Microcontroller based innovative ideas, Different Data Acquisition Methods and Data Analysis.
Educational Qualifications
Master of Technology in Electrical Engineering, Indian Institute of Technology, Roorkee, India, 2011
        Thesis: 'Inverse Kinematic Modelling of a Robotic Arm Using ANFIS & Image Processing'.
Bachelor of Engineering in Electrical Engineering, Birla Vishvakarma Mahavidyalaya, V.V.Nagar, Anand, India, 2008
Awards / Achievements
Scored All India Rank 459 with 81 Percentile in GATE 2009
Technical Software Skills
Math Tools                              : MATLAB , Mathcad
Modelling & Simulation             :LabView,MATLAB Simulink, Circuit Wizard, PSCAD, Pspice, Fritzing, ETAP, Octave, Arduino IDE
Realtime OS                            : QNX
Professional Work Experience
Assistant Professor – Electrical Engineering Department, Saffrony Institute of Technology, S.P.B Patel Engineering College, Linch, Mehsana, Gujarat, August 2014- Present
Senior Engineer – L&T Project Site Incharge, ONGC Uran, Navi Mumbai, India, August 2012-August 2014
Senior Engineer - L&T ECC, Chennai, India, August 2011- August 2012
Workshops / STTPs / FDPs / Training Programs
Organized a one day workshop on 'Labview For Robotics & Data Acquisition', by Mr. Manish Kumar, February 2017
Organized a one day workshop on 'Industrial Automation  using PLC & SCADA' by Mr. Mrityunjay Kumar, Sept 2016
Seminars / Expert Talks
Organised an expert talk on 'Business & Study Prospects In Solar Technology' by Mr. S. G. Prajapati, February 2017
Delivered an expert Talk on 'MATLAB Application for Practical Engineers', April 2016
Organised an expert talk on 'Recent Trends In High Voltage Engineering' by Dr. J. J.Patel February 2016
Delivered an expert talk on 'Fuzzy Logic Controllers', GEC Bhavnagar, July 2015
Key Projects of Students
ROBOCON, Robotics Competition, Pune, India, February 2017
Electrical Power Generation And Control Using Labview, S.P.B Patel Engineering College, Saffrony Institute of Technology, 2017
Home Automation Using Raspberry PI And Arduino With Windows 10 IOT Core, S.P.B Patel Engineering College, Saffrony Institute of Technology, 2017
Computer Controlled Remote Laboratory, S.P.B Patel Engineering College, Saffrony Institute of Technology, 2017