Meet Jani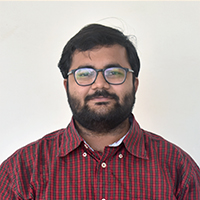 Meet Jani
Assistant Professor
Brief Profile
Mr. Meet Jani joined the institute in June, 2021. He is one of the youngest faculties in the department. He holds an M.Tech with a specialization in Pavement Management System related to QGIS. His areas of interests are Pavement Engineering, Railway Engineering, Airport Engineering, GIS & RS and Geo-tech research. He was an intern at V. P. Construction Bhavnagar where he managed the slab filing work as well he did internship at BISAG, Gandhinagar for 6 months where he worked on QGIS based project for waste dumping site.
Educational Qualifications
Master of Technology in "Pavement Maintenance Management Using Geographical Information System in Ahmedabad City", from Pandit Deendayal Energy University in 2021.
Bachelor of Engineering in Civil Engineering, from S.P.B.Patel Engineering College, Mehsana, 2019.
Project: "Selection of site of waste site selection through QGIS"
Technical Software Skills
QGIS
IITPAVE
Kanpave
AutoCad Basics
Professional Work Experience
Adhoc Assistant Professor - Civil Engineering Department, S. P. B. Patel Engineering College, Saffrony Engineering College, Mehsana, Gujarat, July 2021 to present.
Workshops / STTPs / FDPs / Training Programs
Attended a Workshop on BIM (Building Information Modeling) organized by S.P.B.Patel Engineering College
Attended a Two Day Workshop on 'Free And Open Source Geo-Spatial (FOSS4G) tools' organized by S.P.B.Patel Engineering College.
Attend a Short Term Course on Pavement Engineering organized by Civil Engineering department of Dr. B. R. Ambedkar National Institute of Technology, Jalandhar, Punjab.
Key Projects of Students
Pavement Management System: To make a system where we can manage the pavement distress conditions. Technology: QGIS, MCDM, ARCGIS Dashboard, PMS. Equipment Used: Bump Indicator, Skid Resistance, GPS locator.
Solid Waste Management: Selection of waste dumping site and enrouting the path for the dump collection in Mehsana city. Technology: QGIS, MCDM, ARCGIS
Waste material Concrete: Using Jarosite waste material by making multiple blocks and testing it in Universal Testing Machine.