Mehul Prajapati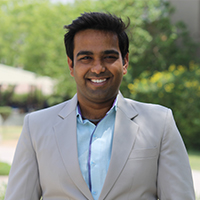 Mehul Prajapati
Adhoc Lecturer
Brief Profile
Mr. Mehul Prajapati has worked in industries as well as academia. His areas of interest are Basic Engineering Drawing, Material Science, Thermodynamics & Hydraulics, Plant Maintenance & Safety, Automobile Industrial Management, Thermal Engineering, Industrial Engineering.
Educational Qualifications
Bachelor of Engineering in Mechanical Engineering R.C.Patel Institute of Technology, Shirpur, Maharashtra, India.
Diploma Engineering in Mechanical Engineering K.D. Polytechnic, Patan, Gujarat, India.
Projects: - Hydraulic Press (1 Ton Capacity) for Punching & Banding, Screw Jack  (1 ton  Capacity), Bench Vice
Technical Software Skills
AUTO-CAD, PRO-E.
Professional Work Experience
Lecturer-Mechanical Engineering Department, Saffrony Institute of Technology, S.P.B Patel Engineering 

College, Linch, Mehsana, October 2016- Present

Lecturer-Mechanical Engineering Department, D.A.Diploma Engineering College, Mahmedabad, Dt. 

Nadiad May-2016 To September-2016

Production Incharge., Sagar Rubber Products Pvt.Ltd. April 2015 To April 2016

Production Incharge., Apollo Infratech Pvt.Ltd,  Ahmedabad-Mehsana State Highway, Rajpur Village, Mehsana, Gujarat-382740 Dec 2014 To March-2015

Training, ABC Bearings Ltd. 1-B, PO Narmadanagar, Nr. ABC Chockdi Bharuch, Gujarat 392012. July 2014 To Nov 2014

Lecturer-Mechanical Engineering Department, M.L.I.D.S Engineering College. Bhandu. Dt. Mehsana. Feb-2014 To April-2014.

Training, Max Industries, Shahvadi, Nr. C.N.I Chuch, Ranipur Patiya, Narol, Ahmedabad-382405 Jan 2011 To April 2011

Apprentice, Sandvik Asia Ltd. Plot No.1174, Village-Rajpur, Taluka. Kadi, District. Mehsana, Gujarat, 

State Highway 41, Gujarat 382740. Sep 2008 To June 2009