Mitesh Patel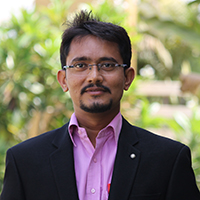 Mitesh Patel
Assistant Professor
Brief Profile
Prof. Mitesh Patel started his academic career in 2012 with Saffrony Institute of Technology. His areas of interest are Heat Exchangers, Pumps, Refrigeration & Air-Conditioning, Basic Thermodynamics, Theory of Machines, Dynamics of Machinery.
Educational Qualifications
Master of Engineering in Thermal Engineering, Jai Narain Vyas University, Jodhpur, Rajasthan, India, 2012
        Thesis: Design and Development of Single Slope Active Solar Still Coupled With Evacuated Glass Tube Solar Collector
Bachelor of Engineering in Mechanical Engineering, L. C. Institute of Technology, Mehsana, Gujarat, India, 2009
Publications
Effect Of Dye On Distillation Of A Single Slope Active Solar Still Coupled With Evacuated Glass Tube Solar Collector , International Journal of Engineering Research and Applications IJERA, Vol. 1, Issue 3, 456-460, 2011. (Co-author)
Experimental Investigation On Single Slope Double Basin Active Solar Still Coupled With Evacuated Glass Tubes, International Journal of Advanced Engineering Research and Studies IJAERS, Vol. I, Issue I, 4-9, 2011. 

(Co-author)

A Comparative Analysis Of Single Slope Solar Still Coupled With Flat Plate Collector And Passive Solar Still, International Journal of Recent Research and Applied Studies IJRRAS, Vol. 7, Issue 2, 1-6, 2011. 

(Co-author)
Professional Affiliations
Indian Society of Technical Education (ISTE)
Technical Software Skills
Design Software : Auto Cad 2010, Pro- E.
Programming knowledge : MATLAB
Professional Work Experience
Assistant Professor, Mechanical Engineering Department, Saffrony Engineering College, S. P. B. Patel Engineering College, Linch, Mehsana, Gujarat, January 2012- Present.
Workshops / STTPs / FDPs / Training Programs
Attended a two week ISTE Workshop on Engineering Thermodynamics, U. V. Patel College of Engineering, Kherva, Gujarat, 11th to 21st December 2012.
Attended an International Conference on 'International Patent Filing Procedure' organized by-GTU, Gandhinagar, Gujarat, 13th January 2015.
Seminars / Expert Talks
Attended a seminar on 'Shock Absorber in Automobiles', 20th February 2017.
Key Projects of Students
Design And Analysis Of Multiway Energy Produce By Wind Turbine In The Train, S. P. B. Patel Engineering College, Saffrony Institute of Technology,  June 2016