Niraj Sorathiya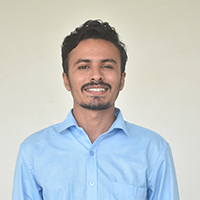 Niraj Sorathiya
Assistant Professor
Brief Profile
Mr. Niraj Shah is one of the youngest faculties in the department. His area of specialization is Thermal System Design while his areas of interest are heat transfer, particularly conduction and related issues, material properties and its selection criteria for thermal as well as mechanical design consideration. He has a sound grip on modeling incompressible flow physics with fluency in ANSYS.
Educational Qualifications
Master of Technology in Thermal System Design, S V national institute of technology, Surat, Gujarat, India, 2021
Thesis: 'thermal investigation and energy analysis of spray dryer employed in effluent treatment'.
Bachelor of Engineering in Mechanical Engineering, M S University, Baroda, India, 2019
Technical Software Skills
Analysis: ANSYS fluent
Mathematics: MATLAB
Programming Softwares: C, C++, Fortran
Professional Work Experience
Adhoc Assistant Professor in Mechanical Engineering, S. P. B. Patel Engineering College, Saffrony Institute of Technology, August 2021.