Nirav Joshi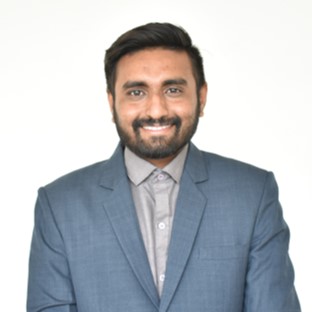 Nirav Joshi
Ad hoc Assistant Professor
Electrical Engineering Department
Brief Profile
Prof. Nirav Joshi is one of the youngest and enthusiastic faculties at Saffrony Institute of Technology. His area of interest includes Microgrid, Renewable energy Technology, Power Electronics Converters, Electric Vehicle, Power quality Enhancement, Power system (Transmission & Distribution) while his area of expertise are design and control of microgrid for rural/urban area, design and control of novel topologies of multilevel inverters, cost optimization of electricity generating stations and Artificial intelligence in Power system. He is guiding students and coordinating Robocon Club at the institute.
Educational Qualifications
Master of Technology in Power systems, Pandit Deendayal Petroleum University, Gandhinagar, India, 2019
            Thesis: 'Design, Control and Analysis of PV based microgrid'.
Bachelor of Engineering in Electrical Engineering, Marwadi Engineering College (FOE), Rajkot, India, 2016
Awards / Achievements
BEST PAPER

of the conference in International Conference on "Emerging Trends in Information Technology and Engineering" (ic-ETITE'20) organized by IEEE, February 2020, VIT Vellore, India.
Publications
N. R. Joshi, A. V. Sant, "Analysis of a new Symmetrical Multilevel Inverter topology with Reduced component count," in IEEE

International conference on emerging trends in Information technology and Engineering (ic-ETITE'20), Feb 2020.
R. Joshi, D. Vyas, P. Kumar, V. Prajapati & V. Mahajan,"Cost Minimization using Particle Swarm Optmization of Transmission network with Renewable sources" 2018 International conference on Intelligent computing and Sustainable System (ICICSS 2018).
Technical Software Skills
MATLAB: Simulink and editor (Used extensively during Masters)

Power Simulator (PSIM)

SCADA (Wonderware Intouch)

PLC (Delta WPLSoft)

Keil µVision
Professional Work Experience
Ad hoc Assistant Professor - Electrical Engineering Department, Saffrony Engineering College, S. P. B. Patel Engineering College, Mehsana, Gujarat, July 2019 to present.
Workshops / STTPs / FDPs / Training Programs
Completed Research Internship on "Cost minimization of transmission network using PSO with renewable sources" May-June, 2018, at SVNIT, Surat,.
Attended a workshop on "Recent Trends in Renewable Energy Technology, Power Quality Enhancement & Electric Drives", March-2018 at PDPU, Gandhinagar.
Attended a workshop on "Hands on workshop on SCADA and PLC", March-2020 at Saffrony Institute of Technology, Mehsana.
Attended a workshop on "Application of optimization", March-2019 at PDPU, Gandhinagar.
Attended a 'New Enterprise Creation Training Programme' by Tourism Corporation of Gujarat Ltd. (TCGL) in association with Entrepreneurship Development Institute of India' 2019, at PT Education, Junagadh.
Key Projects of Students
Design, Analysis and Control of PV based Microgrid
Development of a new symmetrical Multilevel Inverter with reduced switch count
Cost minimization of Transmission network using PSO with Renewable sources.
Current control of Grid connected PV inverter using PR Controller
Optimized design of LCL filter for grid connected distributed generation
Solar MPPT using P&O method with adaptive step size Method