Pankajkumar Patel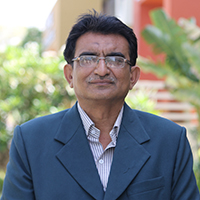 Pankajkumar Patel
Assistant Professor
Brief Profile
Prof. Pankajkumar Patel has worked in academia, various companies and non government organizations in Gujarat. He has been in academics, teaching various subjects like Surveying, Building Construction, and Hydrology since 2007. He has more than fifteen years of field experience, which comprises of design, supervision and quality control work of various rural water supply projects, building projects and industrial projects.
Educational Qualifications
Master of Civil Engineering  (WRM) , L.D. College of Engineering, Ahmedabad, India, 2011 from Gujarat University
        Thesis: Artificial Recharge by using Rain Water Harvesting- A Case Study of a check dam in Dahod District
Bachelor of Engineering in Civil Engineering, Faculty of Engineering And Technology, Baroda, India, 1991 from M .S. University Baroda
Publications
Artificial Recharging of Ground water by using Rain Water Harvesting - A Case Study of District of Gujarat State, national seminar on 'Sustainable Management And Conservation Of Water Resources'  Kota, Rajasthan, 12-13 March, 2010.
Artificial Recharging of Ground water by using Rain Water Harvesting, national conference on 'Current Trend of Research and Development in Civil and Environment Engineering- An Indian Perspective'  SVIT, Vasad, Gujarat, 21-22 January, 2010.
Artificial Recharging of Ground Water by using Rain Water Harvesting in Semiarid Districts Of Gujarat State, International conference on 'International Perspective On Water Resources And Environment' (IPWE 2011) National University of Singapore, Singapore, 4-6 January, 2011.
Professional Affiliations
Indian Society of Technical Education (ISTE)- Life Member
Technical Software Skills
M S Office
Professional Work Experience
Assistant Professor S.P.B. Patel Engineering College, Saffrony Institute of Technology from Dec 2007 to present
Site & Billing. Engineer – Quality Controller Bhavan Construction Private Limited- Baroda, from March 1991 to June 2001
Technical Resource Person Gujarat Council of Primary Education, Gandhinagar, from July 2001 To Feb 2003.
Designer & Supervisor American Red cross, Patan, from Nov 2003 to Dec 2004.
Deputy Manager, Technical WASMO (Water & Sanitation Management Organization), Gandhinagar, from Feb 2005 to Nov 2007. 
Workshops / STTPs / FDPs / Training Programs
Attended a four day Training program on 'Rainwater Harvesting' by Center for Science and Environment, New Delhi on 8-11 August, 2005
Attended a two day 'Water Management Training Programme' conducted by Central Ground Water Board West Central Region Ahmedabad & Central Ground Water Authority at Chousala, Dist. Dahod on 20-21 March 2006
Attended a one day Workshop on World Water Day-2010 at WRM Centre, Civil Engineering, D. College of Engineering, Ahmedabad, India
Attended a three day workshop on Training of Teacher on Infrastructure Software- Water GEMS, Sewer GEMS & Storm CAD held on 13-15 July 2011 at CEPT University.
Attended a two day workshop on 'Patenting in Engineering' organized by GTU, Ahmedabad, on 11-12 February, 2012 at Sankalchand Patel College of Engineering, Visnagar.
Seminars / Expert Talks
Organized a National conference 'Advanced Technology in Civil Engineering' held  on 8th -9th  March, 2013
Attended a two day National Seminar  on 'Remedial Measure for Ground Water Depletion and Recharge Methodology' organized by GPERI, Mevad, Mehsana on 20-21 December 2013