Parixit Pandya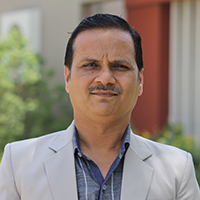 Brief Profile
Mr. Parixit Pandya has been working in academia since 2011. His areas of interest are Communication Skills, English, Communication and Research Skills, Environmental Studies, Contributor Personality Development.
He has been involved actively as a coordinator in various co-curricular activities like Science Fair, Model Presentation Competition, Technical events and in various social welfare activities like Master Mind Quiz competition, M.C.Q. Test Series for 10th standard students. He has worked as committee coordinator and did anchoring of various extra- curricular activities like Cultural Function, Farewell Function, Fresher's Party, Orientation Program, Teacher-Parent's meet, Navratri Function. He has worked vigorously as a Team Member of ACPC and ACPDC admission process at Help Centre.
Educational Qualifications
Master of Arts in English North Gujarat University, Patan, Gujarat,  India, 2001
Bachelor Arts in English North Gujarat University, Patan, Gujarat,  India, 1994
Technical Software Skills
Wordsworth Language Lab Software
Professional Work Experience
Assistant Professor in English- Humanities & Science Department, Saffrony Institute of Technology, S.P.B. Patel Engineering college, Linch, Mehsana, June 2011

- Present
Workshops / STTPs / FDPs / Training Programs
Organised Workshop on 'Interview Skills' at S.P.B. Patel Engineering College (Diploma Courses), February-2017.
Participated in 14 days workshop on 'English Communication' for faculty members, June-2015.
Participated in workshop 'From Interpretation to Expression' for faculty members, November-2014.
Attended a session on 'Articles and Auxiliary Verbs' for faculty members, March-2014.
Participated in the Faculty development program for English (Diploma Engineering) in GTU at AMA, Ahmedabad, September-2012.
Attended a ten day workshop on Introduction to Research Methodologies organized by IITE Bombay at L.D.R.P. Engineering College, Gandhinagar, June/July-2012.
Seminars / Expert Talks
Worked as a convener in National Research Paper Presentation Competition organized by JJTU, Rajasthan at P. B. Patel Engineering College, January 2013.
Attended seminar on 'Patenting in Engineering' organized by GTU at Sankalchand Patel Engg. College, Visnagar, February 2012.