Poojan Shah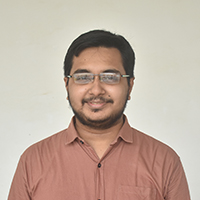 Poojan Shah
Assistant Professor
Brief Profile
Mr. Poojan Shah joined the academics in 2021. His area of specialization is Machine Learning and Deep Learning and his areas of interest are Databases, NLP, Object oriented programming with C++. He is very passionate about learning, completed various online courses to enhance his knowledge of the subjects he teaches. 
Educational Qualifications
Master of Engineering in Computer Engineering, L.D. College of Engineering, Ahmedabad, India, 2021.
Thesis: 'Prediction of Missing Sensor Data using ML for IoT'.
Bachelor of Technology in Computer Science Engineering, Parul University, Baroda, India, 2019.
Publications
Pratibha Tiwari, Nishant Shah, Evanglelin Samuel, Poojan Shah, Yask Patel, Clinical Decision Support Systems, International Journal of Scientific Research in Computer Science, Engineering and Information Technology, Volume 2, Issue 5,993-995 (2019)
Technical Software Skills
Python,
C++,
Flask,
Heroku,
SQL
Deep Learning Libraries: Keras, Tensorflow
Professional Work Experience
Adhoc Assistant Professor in Computer Engineering, S. P. B. Patel Engineering College, Saffrony Institute of Technology, August 2021.