Ronit Danej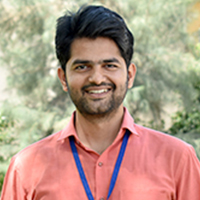 Ronit Danej
Assistant Professor
Brief Profile
Prof. Ronit Danej has worked in Academia and Automation industry in Gujarat. His areas of interest are Electrical power system, Electrical Machines, Power Electronics, Basic of Electrical Engineering, Electrical measurement and Instrumentation. He is actively involved with student development activities and has been guiding students for SAE India Aero design competition.
Educational Qualifications
Master of Power system in Electrical Engineering, SVNIT College, Surat, Gujarat, 2018
Thesis: 'Short term and Medium term Load forecasting by using Artificial Neural Networks'.
Bachelor of Engineering in Electrical Engineering, Dr. S.& S.S. Ghandhi Engineering College, Surat, Gujarat, 2014
Awards / Achievements
Awarded scholarship for all semester in Masters at SVNIT College, Surat.

Cleared GATE-2016, GATE-2017, GATE-2018 in Electrical Engineering Discipline.
Professional Affiliations
SAE India
Technical Software Skills
Simulations tools of MATLAB

C Programming and MATLAB programming

SciLab, AutoCAD
Professional Work Experience
Assistant Professor in Saffrony Institute of Technology, Mehsana, Gujarat since 2nd july, 2018
Engineer, Aditya Automation Industry Pvt. Ltd., Aug 2014 – Jan 2015
Workshops / STTPs / FDPs / Training Programs
Attended Faculty Development Program for Newly recruited faculty Members organized at GTU Chandkheda, March 2019
Attended Taken workshop on MATLAB Simulation in S.P.B Patel Engineering College, March 2019
Attended Go Solar Workshop – ROBOKART in association with innovative cell UMIC Electrical Department, SVNIT, in April 2017.
Design & Control of Power Electronic Circuits using Opal-RT Simulator - RT Lab, SVNIT, in March 2017.
Conducted workshop on MATLAB Programming in S.P.B Patel Engineering College, Nov 2018
Seminars / Expert Talks
Presented seminar on "Dynamic Voltage Restorer" in SVNIT College, 2017
Key Projects of Students
Smart Energy Monitoring And Consumption system', S.P.B Patel Engineering College
Automatic load sharing and Control, S.P.B Patel Engineering College
Ongoing project on RC Controlled aircraft for SAEINDIA Aero design competition