Snehal Rajput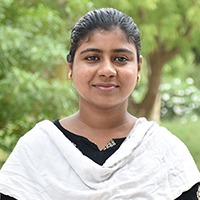 Snehal Rajput
Assistant Professor
Brief Profile
Ms. Snehal Rajput has worked in Academia having one year of teaching Experience. Her areas of interests are Cloud Computing, Operating System, Computer Organization, System Programming, and Compiler Design. She has been actively involved in various co-curricular activities like TECHFESTs, cultural festivals and other activities. She has been mentor to final year student, who were selected in project fair (2017) held in Silver Oak College of Engineering and Technology.
Educational Qualifications
Master of Engineering in Computer Engineering, Government Engineering College, Gandhinagar, 2016
Bachelor of Engineering in Computer Engineering, Saffrony Institute of  Technology, Mehsana, 2010
Awards / Achievements
Gate qualified in year 2014 with 7800 rank.
Secured 3rd Rank in North Gujarat university in 2008.
Publications
Title: "Enhancing Data Security Using AES Encryption Algorithm On Cloud Computing In ICTIS 2015 "Springer Publication".
Publishers: Springer International Publishing Switzerland 2016
Proceedings of First International Conference On Information and Communication Technology for Intelligent Systems: Volume 2, Series title: Smart Innovation, Systems and Technologies (SIST , volume 51)
(ISSN 2190-3018) DOI 10.1007/978-3-319-30927-9_14
Title: "ENHANCING DATA SECURITY ON CLOUD COMPUTING "in IJARIEE 2016.
Paper Id:: 2514
Published in: International Journal Of Advance Research And Innovative Ideas In Education
Publisher: IJARIIE
e-ISSN: 2395-4396
Volume/Issue: Volume 2 Issue 3 2016
DUI: 16.0415/IJARIIE-2514
Technical Software Skills
C, C++, java, HTML, CSS
Linux , Ubuntu ,CentOS
Tools: Eclipse, Net Beans, Dream Weaver, Oracle, Window Server 2008.
Professional Work Experience
1 Year work Experience (Silver Oak College Of Engineering & Technology, 2017-2018).
Workshops / STTPs / FDPs / Training Programs
RED hat RHCSA training program 4 weeks organized by Silver Oak College and Electromec. (NOV 2017).
"A step ahead in C Programming" 5 days workshop organized by Saffrony Institute Of Technology(JUNE 2018)
Seminars / Expert Talks
SAMVAAD 2017- Three days state level Multidisciplinary symposium, 2017. (organized by Silver Oak College).

NaSCoVIP 2017- National Seminar on "Computer Vision and Image Processing " Organized by Silver oak and IEEE Student Section. (March 2018)