Tanvi Joshi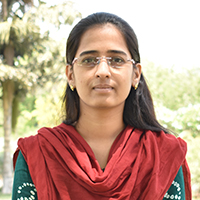 Tanvi Joshi
Adhoc Assistant Professor
Brief Profile
Ms. Tanvi Joshi is a faculty in Computer Engineering. Her areas of interest are Computer vision, Machine Learning, Image Processing, and data science. She has been actively involved in various co-curricular activities like TechFest and another initiative of the Institute as well as she is a faculty adviser for Hackathon
Educational Qualifications
Master of Technology in Computer Engineering, UV Patel college of engineering, Ganpat University, Kherva 2017
Thesis: "Anti-spoofing technique in face recognition system"
Bachelor of Engineering in Computer Engineering, Merchant Engineering College, Visnagar 2011
Awards / Achievements
Secured 1st rank in college (BE)

GATE Qualified
Technical Software Skills
Programming Languages:  C, C++, Java, Android
Operating Systems: Windows, Linux
Database systems & Languages: Oracle 10g, Ms Access, MySQL
Web Technologies: HTML, CSS, JavaScript, JSP, XML
Tools and IDE's: DreamWeaver, Eclipse, NetBeans, Android studio, Opencv
Professional Work Experience
Assistant Professor - Silver Oak College of Engineering and Technology, June 2017 – May 2018
Workshops / STTPs / FDPs / Training Programs
Attended 3 days GUJCOST Sponsored National Workshop on "Android Applications Development for Health Sector" organized by S.K. Patel College of Engineering, March 2015

Attended one Week FDP on "Induction Training Program for Newly Joined Faculties" held at GTU Chandkheda from 25th to 29th March, 2019

Conducted "C Programming" Workshop for 1st Sem students during academic year-2018-19.

Conducted Technical workshop on "Android Development" for 4th CE, 4th IT and 6th CE-IT students in 2019.
Seminars / Expert Talks
Attended "SAMVAAD 2017- Three days state level Multidisciplinary symposium" organized by Silver Oak College

Attended "NaSCoVIP 2017- National Seminar on Computer Vision and Image Processing" Organized by Silver Oak College and IEEE signal Processing Society chapter.