Tejas Patel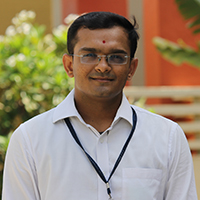 Tejas Patel
Assistant Professor
Brief Profile
Prof. Tejas Patel began his academic career with Saffrony Institute of Technology in 2012. He is actively involved in various extracurricular activities like organizing Annual Function 'Fusion' and Sports Festival 'Udaan'. He is also the NSS coordinator at Institute level at the Institute. His areas of interest are System Programming, Network Security, Software Engineering, Compiler Design, Computer Organization, Data Structure, Object Oriented Programming with JAVA, Data Compression, and Design Thinking Approaches and methods.
Educational Qualifications
Bachelor of Engineering in Computer Engineering, HGCE, Gujarat University Ahmedabad, Gujarat, India, 2011
Awards / Achievements
Got 3rd Rank in Business Plan Competition at IITGn organized by icreate in 2014
Publications
A Review on Video Authentication and Temper Detection Techniques, International Journal of Advent Research in Computer and Electronics (IJARCE) Vol. 3, No. 6, June 2016 E-ISSN: 2348-5523 (Co-author)
Technical Software Skills
Microsoft Visual Studio 2010  
MATLAB
Professional Work Experience
Assistant Professor, Computer Engineering Department, Saffrony Institute of Technology, Mehsana, Gujarat, from Jan 2012 till Date
Junior Developer – Takniki.com, Ahmedabad, Gujarat, from June 2011 to December 2011
Workshops / STTPs / FDPs / Training Programs
Organized a two days National Level Workshop on 'Magic of Model View Controller in Asp. Net Technology' Sponsored by GUJCOST and Saffrony Institute of Technology in August 2016
Organized and Delivered expert session on 'Use of Microsoft Office' for non teaching staff of SIT in 2015.
Attended a five day Training Program on Entrepreneurship organized by I create at IITGn in 2014.
Organized a two day Institute level workshop on 'Windows Phone App Development' at institute in 2014
Seminars / Expert Talks
Delivered an expert talk on 'Cashless Kranti' at Linch ,Jagudan and Dholasan in December 2016.
Key Projects of Students
Cyber Security Awareness Application - Hackathon 2017, Pune Engineering College, Pune, April 2017 .