Upashana Goswami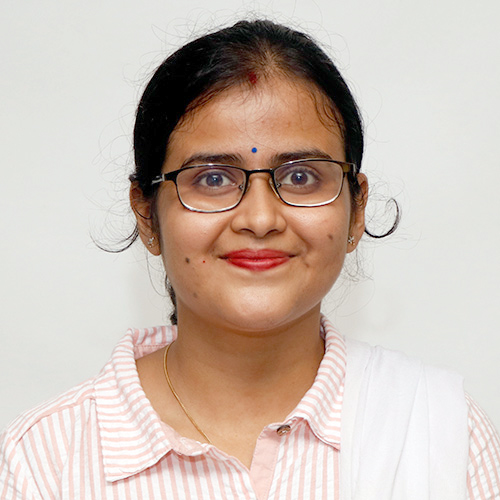 Upashana Goswami
Assistant Professor
Computer Engineering
Brief Profile
Experienced Lecturer with a demonstrated history of working in teaching and health industry. Involved in academics since 2018. Worked in a healthcare industry as an IT support Engineer and developed various android applications.
Area of interests are Signal Processing, Machine Learning.
Actively involved in various extracurricular activities.
Educational Qualifications
Tech in Signal Processing and VLSI Design, Gauhati University,2017
Thesis: Completed the M. Tech Project on "Acoustic Phonetic Analysis of Stop Consonants with Application to Dysarthric Speech" in collaboration with Electro Medical and Speech Technology Laboratory (EEE Dept.), IIT Guwahati.
Bachelor of Technology, Assam Don Bosco University, 2014.
Projects:
Automatic recognition of birds voice found in faunna of Assam.
4-way traffic light.
Digital object counter
Digital Clock using microcontroller.
Awards / Achievements
Received NEQIP scholarship from Gauhati University for securing 1st rank in M.Tech.
Worked as Co-conveyor of Science Day at Gauhati University.
Publications
Goswami, S.R. Nirmala, C.M. Vikram, Sishir Kalita and S.R.M. Prasanna, "Analysis of Articulation Error in Dysarthric Speech", Journal of Psycholinguist Research, Springer Publication, 2020 Feb; 49(1):163-174. doi: 10.1007/s10936-019-09676-5. PMID: 31659578.
R. Nirmala and U. Goswami, "A Review on Landmark Detection Methodologies of Stop Consonants", published in Advances in Computational Research (International Journal of Speech and Language Processing), Volume 8, Issue 1, pp 316-320, 2017.
Technical Software Skills
C, C++, Matlab, LabVIEW, Xilinx, Python, JAVA, Android Studio, Embedded Programming, PSPICE.
Professional Work Experience
Technical IT support Engineer, ACUPAINCARE, August 2017- March 2018.
Guest Lecturer, Gauhati University, August 2018 - December 2018.
Lecturer, Lalit Chandra Bharali College, August 2018- January 2022.
Assistant Professor, Saffrony Institute of Technology, July 2022 till now.
Workshops / STTPs / FDPs / Training Programs
Organized 4 days' workshop On Latex, July 2022.
Attended Workshop on application of soft computing tools in the field of science and technology in June, 2013.
Attended 7-days training at Prasar Bharati in June, 2012.
Attended a LABVIEW workshop conducted by National Instruments, 2016.