Utpal Patel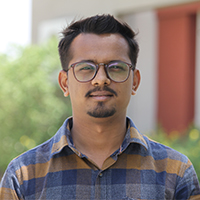 Utpal Patel
Adhoc Lecturer
Brief Profile
Mr. Utpal Patel has been in academics since 2013. His special interests are in Thermal Engineering and concerned fields like Automobile and Automation specially Robotics.
Educational Qualifications
Bachelor of Engineering in Mechanical Engineering, Sankalchand Patel College of Engineering, Visnagar, India, 2013
Awards / Achievements
Achieved the first position in Monster Truck event in Techventure 2012 at L.J. Institute of Engineering & Technology, Ahmedabad.
Publications
Study of Different Wind Tunnel Configuration for Performance Improvement Using Computational Fluid Dynamics, International Journal of Innovative and Emerging Research in Engineering, 4(1), 185-188, 2017. (Co-author)
Professional Work Experience
Lecturer,

Mechanical Engineering Department, Saffrony Institute of Technology, S.P.B Patel Engineering College, Linch, Mehsana, Gujarat, Feb 2017- Present

Lecturer,

Mechanical Engineering Department, Sankalchand Patel College of Engineering Visnagar, Gujarat, July 2013 – Sep 2016