Vaidant Dixit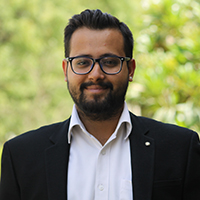 Vaidant Dixit
Assistant Professor
Brief Profile
Prof. Vaidant Dixit is a gold medalist at both Bachelors and Masters level in Engineering. In academia he has been actively involved in various co-curricular Activities like organizing Workshops and Expert Talks under ISTE for development of Students as well as Faculty members. He is also involved as an Institute level Coordinator for organizing Innovative Project Fair and Competition 2017. He had been the Placement Coordinator in MEFGI Rajkot, working with Placement Cell for students' recruitments. He was appointed as an Institute level Sub-Head for IET Activities in MEFGI Rajkot. He played a key role for getting IET Affiliation for MEFGI Rajkot. He also organized state level competition 'Present around the World' for Gujarat State Engineering Students in MEFGI Rajkot.
He worked as a Management Trainee in Supply Chain Department at SKF Ahmedabad Pvt. Ltd and handled the SKF Pune taper roller Bearing Sector and developed a Management Information System using Microsoft Access 2007 for handling and tracking the bearings and other accessories. His areas of interest are Manufacturing Processes, Production Technology, Theory of Machines, Kinematics of Machines, Dynamics of Machines, Industrial Engineering, and Supply Chain Management.
Educational Qualifications
Master of Technology in Mechanical Engineering, Nirma University, Ahmedabad, Gujarat, India, 2014
        Thesis: Application of VSM and MIS in Taper Roller Bearing Sector for SKF Pune
Bachelor of Engineering in Mechanical Engineering, Chameli Devi Groups of Institutions, Indore, Madhya Pradesh, India, 2012
Awards / Achievements
Stood Fourth amongst 65 Participants in Computational Science Symposium 2017 at IISC Bengaluru in the year of 2017.
Excellent Performer in Faculty Development Program amongst 40 Faculty members at MEFGI Rajkot in the year 2014
Gold Medal in the M. Tech CIM from Nirma University in the year of 2014.
Gold Medal in the B.E. Mechanical and awarded as Academic Excellence Award from CDGI Indore in the year of 2012.
Publications
Bubble Hydrodynamics of a CH4 Fueled Chemical Looping Combustion System, Computational Science Symposium-IISC Bengaluru, 12-14, March 16-18 2017. (Co-author)
Lead Time Reduction using VSM and MIS For developing Taper Roller Bearing Sector, ELK Asia Pacific Journal, 2, April 15-16 2015. 

(Co-author)
Professional Affiliations
IET, IAENG
Technical Software Skills
CAM Package                                              : NX-Cam, Master-Cam
CAD Package                                               : Pro-e Creo 2.0
Professional Work Experience
Assistant Professor- Mechanical Engineering Department, Saffrony Institute of Technology, S.P.B. Patel Engineering College, Linch, Mehsana, Gujarat, September 2016 to present
Assistant Professor- Mechanical Engineering Department, Marwadi Education Groups of Institutions, Faculty of PG Studies, Rajkot, Gujarat, June 2014– August 2016.
Management Trainee - Supply Chain Department, SKF Ahmedabad Pvt Ltd, Bavla, Gujarat, May 2013– April 2014.
Workshops / STTPs / FDPs / Training Programs
Organized a one day Workshop on 'Japanese Concepts in Manufacturing' by M.A Extrusion Pvt Ltd, February 2017
Organized a one day Workshop on 'Make your Own Solar Cooker- Think Green , Go Green' by Mr. Alzubair Saiyed and team, February 2017
Attended a three day Faculty Development Program on 'Design Engineering- Beginners Level' by Gujarat Technological University, Ahmedabad, January 2017
Attended a three day Workshop Series on 'Design Thinking for Unmet Needs of Society- Idea to Product' by Prof. Anil K Gupta, Gujarat Technological University, Ahmedabad, November- December 2016
Organized a one day State Competition on 'IET-Present Around the World' by Institute of Engineering and Technology Mumbai Local Network, February 2016
Seminars / Expert Talks
Organized an expert talk on 'Optimization Techniques' by Dr. Vimal Savsani of PDPU, February 2017
Organized an expert talk on 'Entrepreneurship' by Mr. Anand Chokse of Real Estate Connect, February 2017.
Attended an expert talk on ' Design Innovation and Engineering, by Prof. P.V.M Rao, IIT Delhi, Gujarat Technological University, December 2016