Vitesh Desai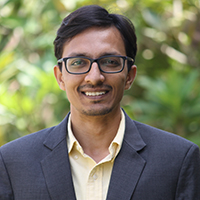 Vitesh Desai
Assistant Professor
Brief Profile
Prof. Vitesh Desai has been working as an academician in Automobile engineering since 2013. He has done his B.E. in Automobile engineering and M.Tech. in Automotive engineering from Gujarat University, Ahmedabad & Amrita Vishwa Vidyapeetham, in 2011 & 2013, respectively. He did his post graduate internship at General Motors, Halol unit. From 2013 to 2014, he worked as an  Assistant Professor  at Narnarayan Shastri Institute of Technology. He is currently working as an Assistant Professor in Department of Automobile Engineering at Saffrony Institute of Technology. He is a Life Member of the Combustion Institute – Indian Section.
A passionate academician of automobile engineering having interests across a range of diverse subjects, he has taught scores of subjects like Noise Vibration And Harshness, Automotive And Combustion Engine Technology,  Automotive Computer Controlled System, Vehicle Testing And Homologation, Internal Combustion Engine, Vehicle Dynamics, Automobile Transmission, Automobile Chassis And Body Engineering, Automobile Engines, Automobile Engineering, Elements Of Mechanical Engineering, & Vehicle Maintenance And Garage Practice to the students of automobile as well as mechanical engineering in past three years. His research interests are Exhaust After Treatments, Automotive Combustion, and Electronic Vehicle Systems.
Besides a proactive academician, he also voluntarily and actively contributes for the social media of a leading journalist and for an eminent politician.
Educational Qualifications
Master of Technology in Automotive Engineering, Amrita Vishwa Vidyapeetham, Coimbatore, Tamil Nadu, India, 2013
        Thesis: Applications Of Value Analysis And Value Engineering (VA/VE) In Automotive Industry
Bachelor of Engineering in Automobile Engineering, Indus Institute of Technology and Engineering, Ahmedabad, Gujarat, India, 2011
Professional Affiliations
Combustion Institute – Indian Section - Life member
Technical Software Skills
Lotus engine simulation, veDYNA Entry (Beginner), Ansys (novice)
Professional Work Experience
Assistant Professor, Automobile Engineering Department, Saffrony Institute of Technology, Linch, Mehsana, May 2014- present.
Assistant Professor (ad-hoc) - Department of Automobile Engineering, Narnarayan Shastri Institute of Technology, August 2013 – May 2014.
Workshops / STTPs / FDPs / Training Programs
Attended a short term course on 'Recent Advances in Automotive Systems' organized by IIT-Madras, February, 2015
Attended a national seminar on 'Research Methodology' organized by Ganpat University, Mehsana, January, 2015
Co-organised and coordinated the workshop titled 'Emerging Technologies in the Field of IC engines and Automobiles' for pre-final year students at Saffrony Institute of Technology, August 2014
Seminars / Expert Talks
Co-organized an expert talk on 'Entrepreneurship' by Mr. Anand Choksi, CMD of The Real Estate Connectn, February 2017
Coordinated an expert talk on 'Optimization' by Prof. Vimal Savsani of PDPU, Gandhinagar, February 2017
Attended a Global meet on 'Research Perspectives On Nano Science Applied To Car Engine' by Gujarat Technological University, October 2013