Wednesday, September 19, 2018 4:36 PM
Mitsubishi Electric Cup - 2019 Final List: Click Here 


Saffrony Institute of Technology is very
 proud to announce the selection of students for  Mitsubishi Electric Cup 2k19. On 18th September, 2018 our students, the team  'Ameya Vision' successfully made a way in Mitsubishi Electric Cup 2k19  by getting selected among the Top 35 teams out of 100+ teams across the country. It is a great news for all of us, Saffronites! 
The team consists of 4 Students, Ms. Hima Soni - CE, Ms. Mansi Pomal - IT, Ms. Riya Prajapati - IT & Ms. Foram Soni - EC along with the faculty advisers Prof. Dipal Patel and Prof. Yuvrajsinh Parmar.  All the professors and the Management encouraged and guided the team.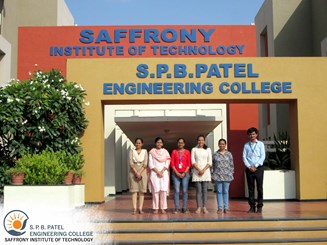 The next step for the team is preparing the model and excelling in the final competition. Let's wish them a 
  great success for Mitsubishi Electric Cup - 2k19. Congratulations and wish you all the Best!