Wednesday, May 13, 2020 7:33 AM
Again, one more 
good news 
for all of us to be proud as a saffronite!  After achieving 1st Rank in University in the 1st year and
4th Rank in University
in 3rd year, one more feather 
  is added to
Saffrony's long list of achievements!  
Kudos to all Saffronites for the Outstanding Academic Achievement! 
  It gives us immense pleasure to share the Result of 3rd Semester Degree Engineering. 
Saffrony Institute of Technology 
 achieved 
3rd Rank 
in University (Gujarat Technological University),
Among 100 Colleges
 from

 

ALL over Gujarat!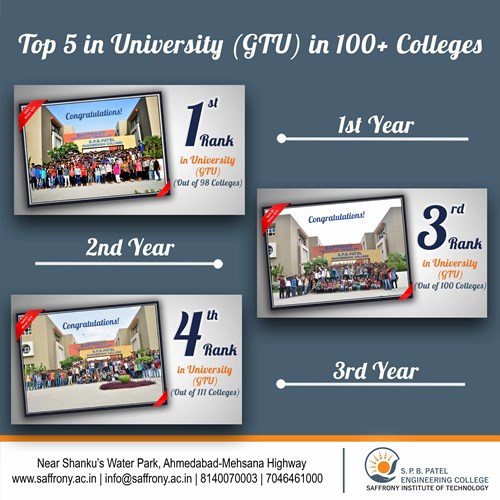 Students' zeal, hard-work and perseverance, faculty member's constant guidance & care and the management's support & concern made it possible to achieve such milestones. An
d this is not the end. We strive to become
 better & better and excel.   
 Kudos to all the students for this sparkling achievement! 
 Kudos to the faculty members for helping students push their limits, sharing the best of their 
 knowledge in the most creative ways and constantly guiding Saffronites!
 We're sure, we all can together make even bigger 
 achievements
 and make 
Mission 
a reality with 
Zero Backlog for every Student! 
Zero Backlog will help as an entry gate for Quality Placements and High Paid Jobs.
Many Congratulations! Keep up the Spirit as there is a long way to go.